If like me you're in charge of the vagrant base boxes supporting a team with folks in different time zones you might find this hack useful. I use it to bring the time zone of a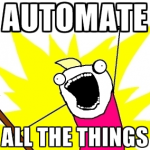 RHEL 6 or cousins (tested on CentOS 6.4) guest VM to the same as an Os X host (tested on 10.7.5) in Vagrant, VirtualBox provider environment. I'm leveraging an Os X CLI utility  with a shell provisioner but it shouldn't be too much of a deal to refactor for Ansible/Puppet/Chef provisioner. I'm pretty sure there are better ways of doing this, so if you have a more elegant solution please describe it in the comments!
As I just got Rundeck working behind Apache httpd with mod_proxy and since I didn't find  a dedicated tutorial  on the inter webs I thought to make a quick summary.