Last week I attended the inaugural ChefConf 2012, the 1st conference about Chef organized by the company at its origin i.e. OpsCode; here are some "post-conf thoughts".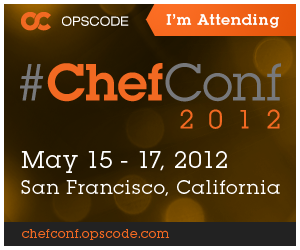 If there was only one thing to note from this gathering it would be this: Amazing Community. These folks lead by example when it comes to being friendly, positive, knowledgable and willing to share, the "No Asshole Rule" is a default in real life and online. As a matter of fact even though I'm just getting started with Chef I already feel like a member of the tribe. Although I have to admit attending ChefConf 2012 wasn't a coincidence as I've been reading, listening, participating to a lot of DevOps conversations for "some" time now and Configuration Management tools such as Chef are a corner stone.
When it comes to the ChefConf 2012 content since after several months of investigation I've just made my mind to go with Chef most of the details were new to me, nonetheless I was able to identify some essential ideas and technologies.
The main concept behind Chef is "Infrastructure as Code" and as such there were a lot of discussion as to how to apply best practices from the "regular"  Software Engineering industry (not that I'm sure there is such a thing anymore) for instance using the Agile method and/or Test Driven Development (TDD). I noted the "Time Box Iteration" used by the folks at Ancestry.com, also something important to me was the idea of "Done means Deployed (and Tested)", oh and of course I liked the idea that DevOps is the Justice League i.e. Batman (Ops) & Superman (Dev) fighting for the good cause.
In terms of tools here is a list from my notes:
FoodCritic: "To make it easier to flag problems in your Chef cookbooks" and "To encourage discussion within the Chef community on the more subjective stuff"
Knife Spork : "A workflow plugin to help many devs work with cookbooks and environments at once"
Spice : "Spice is a zesty Chef API wrapper. Its primary purpose is to let you easily integrate your apps with a Chef server easily."
SpiceWeasel : " Spiceweasel is a command-line tool for batch loading Chef infrastructure. "
Shef : Shef is a way to run chef in an Interactive Ruby (IRb) session
I enjoyed all the talks I attended, but I was particularly impressed by 2 presentations which in my mind are the perfect representation of the paradigm shift made possible by the "Cloud" while leveraging Infrastructure as Code .
The first one was from Jason Stowe (CEO  Cycle Computing ) and their 50,000 nodes for a few thousands dollars and for Science , this talk made so much sense to me as I've seen, sitting in the front row, how most Universities IT Departments are currently incapable of competing with such velocity. Fellow Data Center peeps, like it or not, sooner rather than later you are going to have to deal with "The Cloud" so be ready for it, or be ready for more cloud based Shadow IT first, followed by "C level" executives endorsing the Cloud as a whole (Public/Private/Hybrid ; IaaS/PaaS/SaaS )and finally the shrinking of the number of RU you manage, don't be surprised when if it reaches 0, it's not like we weren't told...
The second presentation I particularly enjoyed was from Sarah Novotny CIO at Meteor Entertainment the studio behind Hawken . As an E-sports adept with a "slight" preference for First Person Shooters (FPS) I found the idea of "Ephemeral FPS Servers" just brilliant, as a matter of fact I'll probably dedicate a post to this as multi player video game infrastructure is my first love (I miss you too).