While thinking about Devops culture metaphors (I like them a lot and have used and abused them through out my career) I enjoyed David Lutz post "Running IT like a rock band" but there was something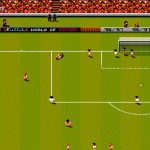 about that metaphor that bothered me. I also remember a tweet stating something along these lines "Show me your rockstar developer and I'll show you your bottleneck" and the analogy of a soccer team as opposed to the Rock band started to materialize. When John Willis presented at the Silicon Valley Devops last month his 100% culture focused "State Of The Union" presentation added another layer. In particular his emphasis on systems thinking (the fact that I've always had "systems" in my job title is most likely not a coincidence).
It then was clear to me why I was having this second thoughts about "Running IT like a rock band", that is, I like to think of the IT Industry as a science based industry, and in that regard I think a soccer team has much more in common with IT than a Rock Band, here is why.